INTELLIGENT DATA PROCESSING FROM CLOUD TO EDGE
Kalray, The Power of More
Kalray is a fabless semiconductor company, a leading provider of a new class of processors, specialized in Intelligent Data Processing from Cloud to Edge. Kalray's team have created and developed its leading edge technology and products to help its clients maximize the market possibilities presented by a world dominated by massive, disparate and pervasive data.
Thanks to Kalray's patented manycore architecture, Kalray's MPPA® Intelligent Data Processors are natively capable of managing multiple workloads with no bottlenecks to enable smarter, more efficient and energy-wise data-intensive applications. Kalray's offering includes processors, acceleration cards with associated software environment and appliances, allowing its customers to design the best solutions in fast growing sectors such as modern data centers, 5G, AI and Edge Computing, autonomous vehicles and others.
Founded in 2008 as a spin-off of CEA French lab, with investors such as Alliance Venture (Renault-Nissan-Mitsubishi), Safran, NXP Semiconductors, CEA and Bpifrance, Kalray is dedicated through technology, expertise and passion to offer more: more for a smart world, more for the planet, more for customers and developers.
THINK OUTSIDE THE BOX
"The world is facing an explosion of data which current technologies were not initially designed for and cannot always handle efficiently. Industry needs a new type of processor to address these new challenges. That's why at Kalray we have designed a new generation of intelligent data processors unlike any other. The kind of intelligent processor that give you the power to do more. More to propel fast developing sectors from 5G telecom networks, autonomous vehicles all the way to healthcare equipment, industry 4.0, drones and robots. To maximize these market opportunities, we invite you to fast forward your projects and leap ahead of the game with Kalray."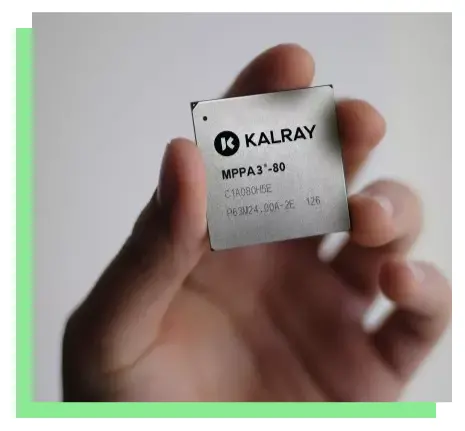 How We Do More with our Cutting-edge MPPA® Technology
With MPPA® processors, the possibilities are endless and allow you to innovate without borders. Powered by 80 cores, MPPA® processor is a new generation of intelligent processor with unique capabilities in terms of programmability, performance, parallel execution of multiple critical tasks, energy efficiency, safety and security. Our breakthrough MPPA® technology is paving the way to a new data processing era.
Board of Directors - Independent Members
GILLES DELFASSY, CHAIRMAN, SUPERVISORY BOARD
HENRI RICHARD, INDEPENDENT BOARD MEMBER, SUPERVISORY BOARD
SEAN PITONAK, SVP, CORPORATE DEVELOPMENT AND MERGERS & ACQUISITIONS NXP SEMICONDUCTORS, BOARD MEMBER
ERWAN MENARD, INDEPENDENT BOARD MEMBER
BPIFRANCE INVESTISSEMENT, REPRESENTED BY EMMANUEL AUDOUARD, BOARD MEMBER
SAFRAN CORPORATE VENTURES, REPRESENTED BY FLORENT ILLAT, BOARD MEMBER
EUREKAP !, REPRESENTED BY GUY RIGAUD, BOARD MEMBER
ALLIANCE VENTURES, REPRESENTED BY ANTOINE VUILLAUME, BOARD MEMBER
CEA INVESTISSEMENT REPRESENTED BY RÉGIS SALEUR, BOARD MEMBER
Leading companies and investors are supporting us in this exciting technological adventure.
We distribute our products and solutions through our sales teams and a network of selected partners. Want to become a partner?
Kalray is certified ISO 9001 and offers high quality levels throughout its products and services.