Why Invest in Kalray?
Our customers are Fortune 500 customers in domains such as Data centers, Telecom, Automotive and Edge Computing.
A Unique DPU Technology
From a breakthrough innovation from the CEA, one of the most renowned research labs in Europe, and developed by a talented team of experts in the field in the last 10 years, Kalray is offering a unique and mature technology, the MPPA®. Results of more than €100M R&D investment, MPPA® DPU Coolidge™ is Kalray's 3rd generation intelligent data processor and is covered by more than 30 patent families.
Unique Markets
Intelligent Data processors will be at the heart of most of the largest markets in the next decades: data centers, storage appliance market, 5G telecom networks, AI and edge computing, autonomous vehicles and others.
Unique Investors
In addition to well-known financial investors, Kalray shareholders include companies like Alliance Venture (Renault-Nissan-Mitsubishi), Safran, NXP Semiconductors.
Our ESG Commitment
Our ESG approach is everyone's business, all the women and men who, through their dedication, energy and creativity, have brought Kalray to where we are today. Together, we are committed to a better and more sustainable world.
Subscribe to Email Alert
Subscribe to all Kalray financial information and receive an email alert whenever new information is available.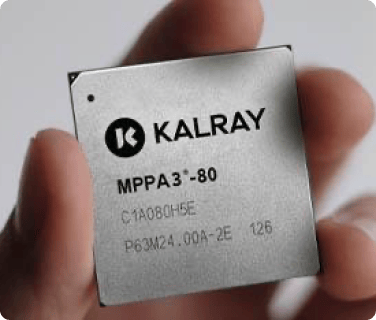 HOT NEWS!
Signing of a Large Contract with an Industry Leader for Kalray's DPU Processor
Kalray announces that it has signed a major contract with a world leader in the field of high technology, listed on the NASDAQ, in accordance with the negotiations announced recently.
Could not find the information you were looking for?
Ask your questions here using the form.

You can also contact us by telephone on
(+33) 1 53 67 36 79
Investor Relation Contacts