SOFTWARE-DEFINED STORAGE AND DATA MANAGEMENT
Introducing Kalray Software-Defined Storage
Kalray's high-performance, data-aware, software-defined storage and networking solutions are specifically designed to accelerate the world's most challenging data workflows. 
Kalray's pixstor™ storage combines flash, disk, tape, and Cloud storage into a unified system that is higher performing, limitless in scale and lower cost than traditional solutions. Data moves seamlessly through various tiers of storage – from fast flash to cost-effective, high-capacity object storage, all the way out to the Cloud – depending on how frequently it needs to be accessed. This allows organizations to store valuable data more intelligently and economically.
High Performance Parallel File System with Limitless Scale: pixstor™ provides ease of use, tiering, cloud integration and relentless support on open standard hardware – greatly reducing costs.
Transparent Data Tiering to Object, Tape, and the Cloud: Reserves high speed storage for work in progress, moves everything else to low cost archive, while maintaining a single view of all data.
Simplified Management and Workflow Automation: Easy Python API simplifies management and automates workflows.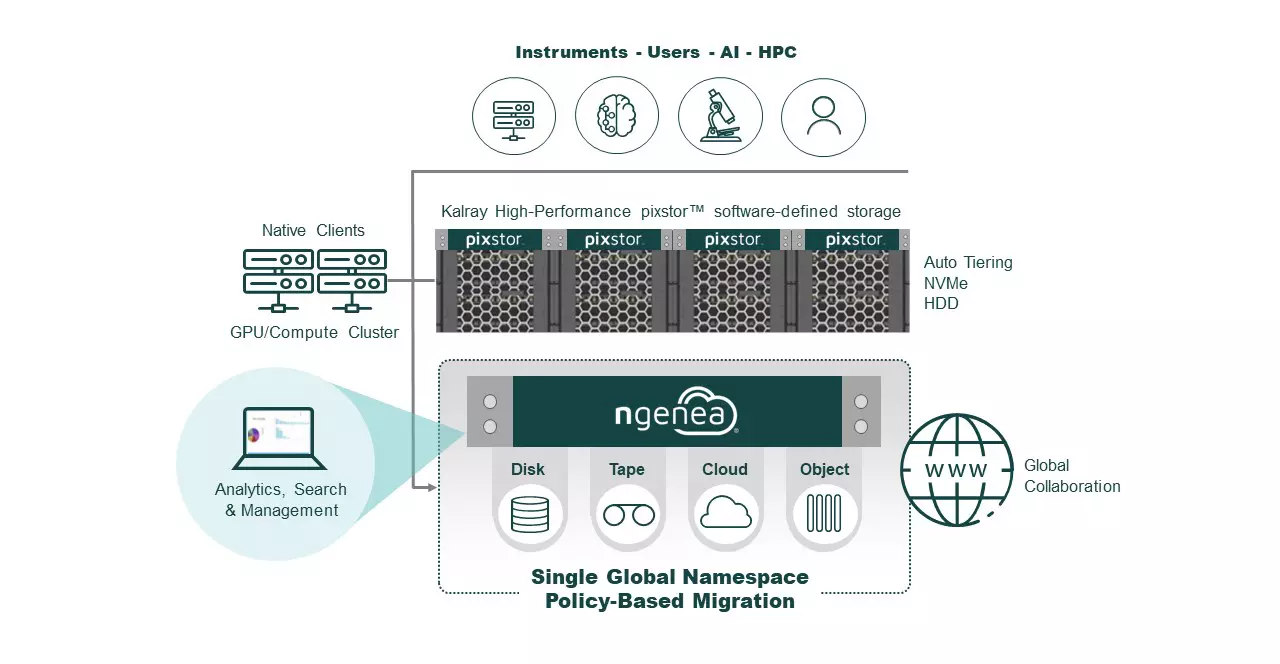 Choose a software-defined solution running on open standard hardware, with no vendor lock-in and standard data protection services for tremendous economic advantage now and into the future.
Complete Data Awareness and Lightning Fast Search
Intuitive user defined metadata harvesting, tagging and easy search for data – no more tree walks or lost data.
Real-time performance, history and trending with statistics reporting about data and its contents through a simple and intuitive graphical interface.
SMBv2/3, NFS, FTP, HTTP, S3, HDFS and POSIX parallel file system client for extreme performance.

Built-in Data Protection and Services
Snapshots, Fail-over, Replication, RAID 6, Quotas, Tiering, Compression, Storage Pools and ILM data placement policies.
Effortless Cloud Bursting
Painlessly Cloud burst onto unlimited nodes, minimising data transfer and maximizing data locality.

Consistently Fast Performance
pixstor™ scatters data across spinning disk, removing the impact of fragmentation, so there is no degradation in performance as the system fills.
Hundreds of metrics for granular performance analysis through a single pane of glass that extends far beyond simple disk and network statistics
Customizable, automated event/response mechanisms for every major component in the solution
Alerting
Pre-failure detection
Auto correction
Pool <-> pool data migration
Historical problem logging and review
Call home capabilities for proactive solution support
Logstash plugins for system log analysis
Elasticsearch plugins for redirecting performance counters to external elastic instances
Through a user-friendly and intuitive graphical interface, access real-time performance, history and trends, create complete reports…
Powerful, Easy Search Capabilities
Finding migrated data among vast cloud or object stores is easily facilitated with the included search function that can automatically harvest user and application metadata from files allowing lost files to be found by metadata type with simple drill down interface that generates proxy images, videos, audio and documents for quick browse. 
Tightly Integrated with the Cloud
In addition to transparent data tiering to the cloud, pixstor™ software-defined storage  facilitates effortless, highly efficient Cloud Bursting onto unlimited compute nodes when needed, minimizing data transfer and maximizing data locality between data stored on premises and cloud computing resources. Results are automatically transferred directly back to on-premises storage with no manual intervention.
Want to Learn More about Pixstor™?
pixstor™ Customer Support
Need help? Our teams are at your service
24 hours a day, 7 days a week.