DPU PROCESSORS
(DATA PROCESSING UNIT)
FOR DATA-INTENSIVE APPLICATIONS
Kalray's MPPA® DPU Processor (Data Processing Unit)
A New Class of Processor, Specialized in Intelligent Data Processing, for Infrastructure, Compute and AI Acceleration
Coolidge™ is the third generation of Kalray's MPPA® DPU processors. Coolidge™ is natively capable of managing multiple workloads in parallel with no bottlenecks to enable smarter, more efficient and energy-wise data-intensive applications.
Taking full advantage of Kalray's patented MPPA® (Massively Parallel Processor Array) architecture, Coolidge™ is a scalable 80-core DPU processor designed for intelligent data processing. It offers a unique alternative to GPU, ASIC or FPGA, bringing unique value to multiple applications from Data Centers, to the Edge and in Embedded systems.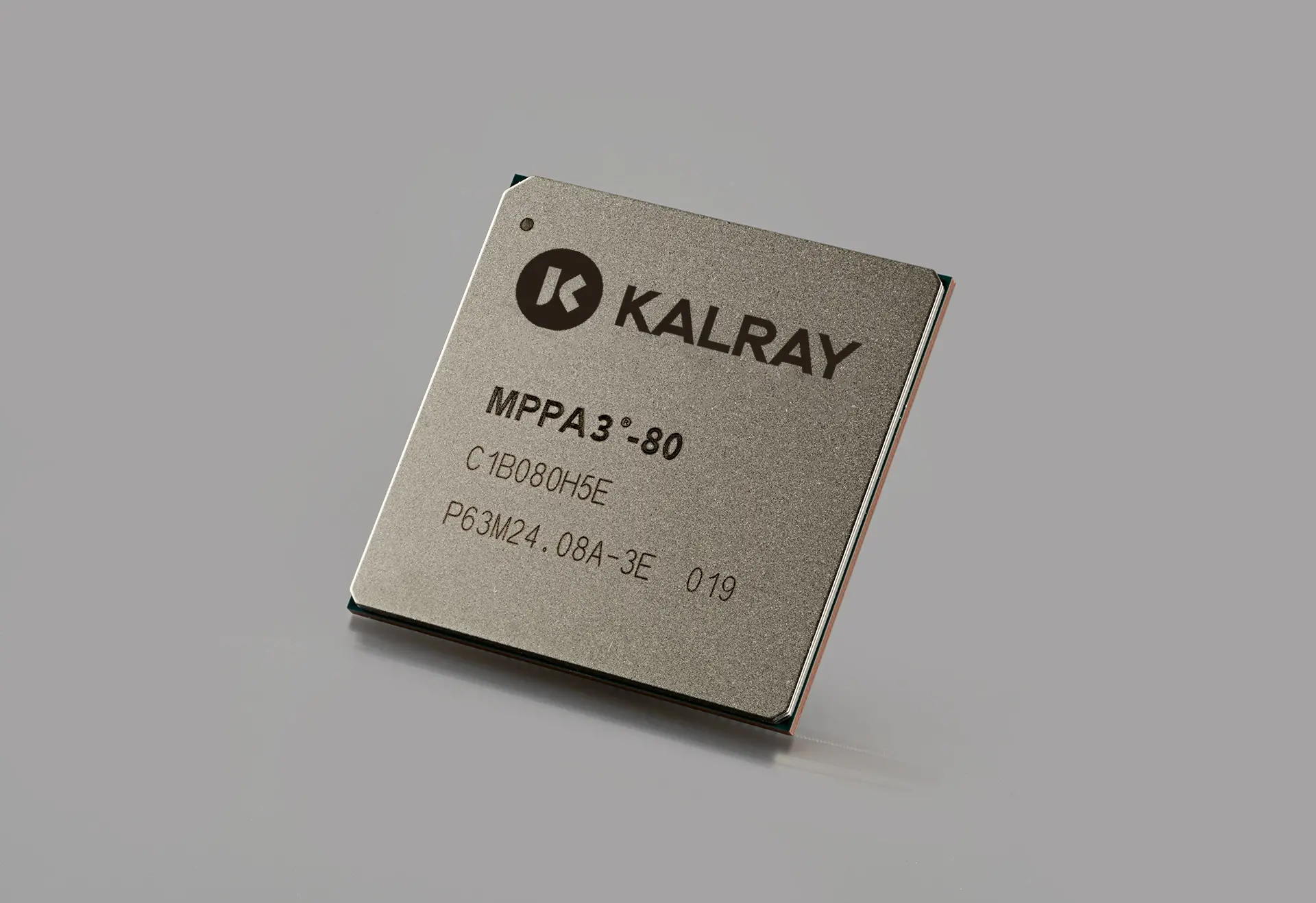 Key Benefits of MPPA® DPU (Data Processing Unit)
High Performance Computing: Performance scalability within die, die-to-die, many dies.
Heterogeneous Multi-processing: Parallel execution of dozens of heterogeneous critical tasks, including AI inference.
Easy Programming: C/C++ / Open CL™ / Linux / POSIX / RTOS
Real-time Data Processing: High speed I/O, RDMA architecture type
Power Efficiency
Security/Safety: Determinism, Freedom from interference, Secure boot
Data Processing Unit Use Cases

Develop Next Gen Storage and Networking Systems
Flexible integration in state-of-the-art PCIe Gen4, 100GbE appliances:
JBOF Target controller, I/O controller, SmartNIC, SmartSSD use cases
2 configurations: stand-alone or x86 CPU offloading
Support virtualized, containerized or bare metal infrastructures
Dynamic resource allocation for Control, Data & Management Planes
.
Acceleration of high-performance protocols, services and QoS:
NVMe-oF, RoCE/RDMA, TCP/IP, NVMe, OVS/NFV protocols
Smart Load-Balancer, Priority Flow Control, Stateless L1-L4 parsing
RAID6: 154 Gbit/s Erasure Coding (Reed-Solomon) per cluster
Line-rate encryption/decryption/hash (IPSEC, TLS, XTS, MACsec)
AI capability for analytics and adaptive configuration

Build Accelerated Compute-Intensive Applications
Acceleration of complex workloads:
Patented core + co-processor boosting Machine Learning Inference
Computer Vision
Signal Processing (e.g. FFT), Cryptography, Mathematics


Build stand-alone intelligent embedded systems:
Multi-OS (Linux, RTOS) systems
Support "Freedom from Interference" for mixed criticality


Build next gen Edge Computing Systems:
Process Data at the Intelligent Edge
Real-time analytics for automation, prediction, and control
Easy integration into existing systems

With MPPA® DPU Processors, the Possibilities Are Endless Allowing You to Innovate Without Borders
Powered by 80 cores, MPPA® DPU (Data Processing Unit) is a new generation of intelligent processor with unique capabilities in terms of programmability, performance, parallel execution of multiple criticial tasks, energy efficiency, safety and security. Our breakthrough MPPA® technology is paving the way to a new data processing era.
.
The kind of intelligent processor that give you the power to do more. More to propel fast developing sectors from 5G telecom networks, autonomous vehicles all the way to healthcare equipment, industry 4.0, drones and robots … and more!
DPU Technical Corner / Key Features
Want to learn more about Kalray's Data Processing Unit (DPU)?