KALRAY'S DEVELOPMENT PCIE CARD
Kalray's DPU-based Development PCIe Card
The K200™ boards make up a family of programmable, low-power PCI Express (PCIe) cards, featuring the MPPA®3 DPU Coolidge™ processor. Kalray's 3rd generation MPPA® DPU manycore processor is designed for the development of applications using the MPPA®'s high-speed interfaces (PCIe, Ethernet, etc).
The K200™ board is part of the Kalray's MPPA®-DEV4, our development platform, and is also integrated within the NXP BlueBox, a versatile development platform for automotive from NXP.
K200™ is fully supported by AccessCore® SDK and can be used in acceleration or standalone modes
Based on Kalray's MPPA®3-80 DPU Coolidge™ Processor
The highest core count on the market: 80 VLIW cores tightly associated with 80 Tensor cores on a chip
Low energy consumption: 30W typically
Real-time & low latency
High programmability: Standard C/C++, OpenCL
Want to learn more about the K200™ board?
Technical Corner / K200™ Specifications
| FEATURES | TECHNICAL SPECIFICATIONS |
| --- | --- |
| Main Component | 1x MPPA® 3-80 DPU (Coolidge™) - 80 cores @ up to 1GHz |
| Main Input / Output | - X16 PCIe Gen4-2X 100Gb Ethernet |
| Memory | - 2x DDR4 4GB @ 3200MT/s with ECC- 1x 16GB eMMC for MPPA® applications code- 1x 1Gb NOR Flash for MPPA® Bootloader code |
| Format | Half Length, Full Height |
| Overall Size | 167.65 mm x 106.7 mm |
| Width | - 1x PCIe slot- 2x PCIe slot- 2.5x PCIe slot |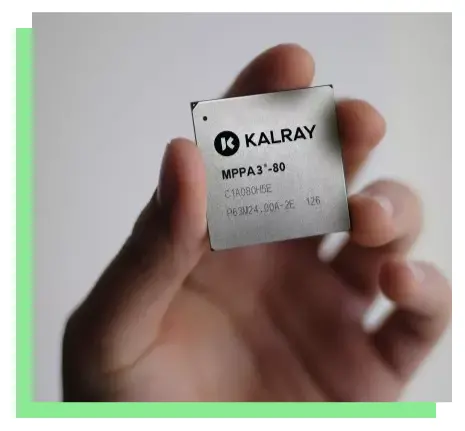 Our DPU Processors Makes It Possible!
Possibilities are endless with Kalray's unique manycore technology.